Expert Assistance, Ideal Results.
Finding the right stairlift for your senior can provide considerable advantages when it comes to their safety and your peace of mind. Many elderly residents wish to remain independent at home, and those dealing with mobility issues can now outfit their home with a stairlift to create a very cost-effective resolution for the family.

LEHAN'S MEDICAL PROVIDES OUTSTANDING RESULTS FOR EVERY PATIENT:
COMPREHENSIVE MEDICAL EQUIPMENT
INDUSTRY-LEADING KNOWLEDGE
EXPERIENCE WORKING WITH INSURANCE PROVIDERS
AFFORDABLE COSTS
COMPLETE CUSTOMER SERVICE
Does walking up and down your stairs fill you with anxiety? Stair lifts are an excellent medical solution for people who have difficulty climbing up and down the staircases in their home. According to the Center for Disease Control and Prevention, one in three senior citizens will fall and face moderate to severe injuries this year alone. At Lehan's Medical Equipment and Supplies in Rockford and Freeport, we're proud to offer a plethora of state-of-the-art stair lifts for people who suffer from poor balance, heart conditions, joint pain, and physical injuries. If you need assistance choosing the best stair lift for your home, contact our medical supply professionals today!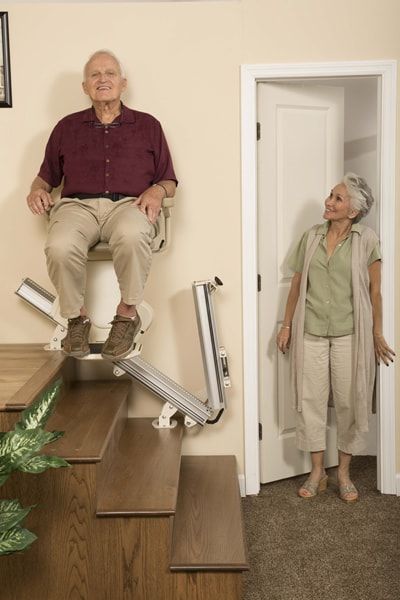 DO I NEED A STAIR LIFT?
While many people assume that falling down the stairs will never happen to them, the statistics prove otherwise. Most stair falls occur at home, and seniors who suffer from a fall are likely to fall into one of these statistics:
50 percent of seniors who sustain a fall-related injury are discharged to a nursing home rather than returning to their home.
25 percent of people who fall down the stairs fracture their hip which can require lifelong nursing care.
For adults ages 65 and older, falls are the leading cause of death from injury.
If you're concerned about falling down your stairs, or you simple need a little extra help getting up and down them, installing a stair lift will be an excellent solution for you.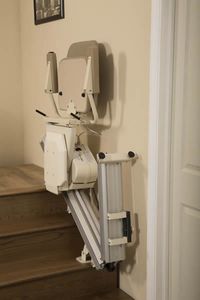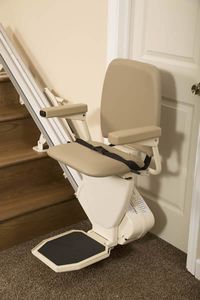 THE BENEFITS OF STAIR LIFTS
A stair lift is a smart investment when you or a loved one is in danger of falling on the staircase. While nobody likes admitting that they need help moving around their home, you risk serious injury if you continue to go up and down the stairs unassisted. At Lehan's, our medical supply experts believe there are many benefits to installing a stair lift in your home. Some of these benefits include:
STAIR LIFTS HELP TO KEEP YOU SAFE
If you've already taken a tumble on your staircase, or you're worried that a loved one is at risk of falling due to age or illness, a stair lift can help ease your mind when it comes to safety. A good stair lift can be a wonderful solution for seniors with mobility issues, and there are a variety of styles and designs to choose from. When you visit our medical supply store in Rockford, we'll take the time to answer any questions you may have before recommending the best stair lift for your needs.
PROTECT YOUR INDEPENDENCE WITH A STAIR LIFT
If you're like most Americans, being able to live an independent life is very important to you. While some senior citizens can afford in-home caretakers to carry them up and down the stairs, this is not the case for everyone. Rather than moving to an assisted living facility, installing a stair lift can help protect you from the dangers of falling, while also providing you with the freedom to move about your home. Don't wait until your next fall to install a stairlift! Contact the medical supply experts at Lehan's today!