Comfortable, Convenient Lift Chairs
Find Your Seat With Lehan's!

Get Comfortable With Lehan's
Lehan's Medical Equipment and Supplies is here to help Illinois citizens find the right durable medical equipment to improve their lives and comfort through quality products and complete industry expertise. Our medical supply stores in Rockford and Freeport offer a range of luxurious lift chairs to help patients with mobility concerns.

A POWER LIFT CHAIR CAN PROVIDE A HOST OF BENEFITS TO THOSE IN NEED:
ASSISTED STANDING AND SITTING OPERATIONS
UNMATCHED FURNITURE COMFORT
GUARANTEED QUALITY AND DURABILITY
IDEAL NAPPING LOCATION (FOR INFINITE-POSITION CHAIRS)
AFFORDABLE RESULTS AND INSURANCE COVERAGE
If you or a loved one is having difficulty standing up from or sitting down from the family room couch or recliner, it could be time to invest in a power lift chair. At Lehan's Medical Equipment and Supplies, we offer a great selection of stylish and functional medical recliner chairs and power lift chairs for those who need a little extra assistance. When you visit our friendly medical supply experts, we'll work closely with you and your primary physician to understand your medical needs before recommending the perfect lift chair for you.
WHAT DO LIFT CHAIRS DO?
Lift chairs are a comfortable and innovative solution for people who struggle getting in and out of chairs. At Lehan's, we offer a variety of comfortable lift chairs that could easily be compared to a luxurious Lazy-Boy recliner, with the added capability of being able to lift you up from a complete sitting position to a standing position. Once you are seated in one of our power lift chairs, you have the ability to recline just as you would in a regular lounger. With a variety of specialized models available such as two-position, three-position and infinite, you have the luxury of choosing from a diverse list of styles and functionality to suite your individual needs. Medical lift chairs can make all the difference in comfort while you read the paper, watch TV or take a cat nap.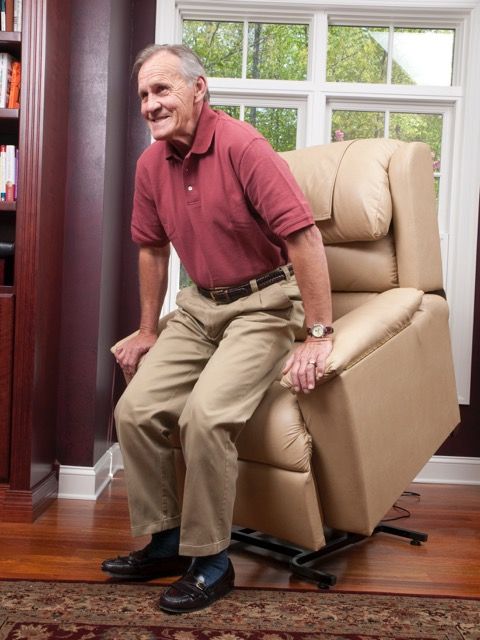 HOW TO SHOP FOR A MEDICAL LIFT CHAIR
While all medical lift chairs provide a lift function that will assist in lifting the user to a standing position, not all lift chairs are alike. One of the main differences in lift chair models is their reclining ability and function. Below are a few popular models you may see while shopping for a power lift chair:
TWO-POSITION LIFT CHAIRS
These power lift chairs will have a limited recline of usually 40-45 degrees. The ottoman connected to the chair will typically automatically rise as the chair reclines backwards.
THREE-POSITION LIFT CHAIRS
Three-position lift chairs recline in a similar fashion to a Lazy-Boy recliner and can recline to an almost flat position. The ottoman connected to the lift chair will automatically rise as the chair declines.
INFINITE-POSITION LIFT CHAIRS
These kinds of medical lift chairs can recline all the way backwards to a flat position and usually has seperate controls for the recline and ottoman settings.
If you're unsure of the best kind of medical lift chair for your condition, contact the lift chair specialists at Lehan's Medical Equipment in Rockford and Supplies today, and be sure to visit one of our two locations, as we have now opened a medical supply store in Freeport!